Nevada II
The Reno Blue Knights®

Bruce Matthai
Heaven I, RIP
About the Reno Blue Knights, Our chapter is situated in Northern Nevada, at the base of the beautiful Sierra Nevada Mountains.
We live and ride in an outdoor paradise…….
"NO"

we are not close to Las Vegas.
"NO"

it is not hot here, that would be Las Vegas 7.5 hours to the South.
We have 4 distinct seasons, all around 3 months long with Winter being one of those seasons. 
Although high desert, Reno is 35 minutes from Squaw Valley, the home of the 1960 Winter Olympics, so "yes" we do get the occasional snow storm.
Our chapter was charted May 3rd, 1984.
NVII IS on of tHE chapters in the
WEST COAST CONFERENCE 'WCC' OF THE bLUE kNIGHTS®
Our chapter annually sponsors the Nevada Law Enforcement Memorial Motorcycle Event, the Blue Butt Rally and provides support to law enforcement families throughout the state.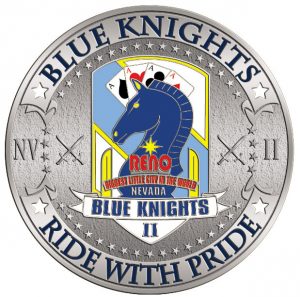 Chapter Officers
Position                                          Name     
President                                       Rob Davis
Vice President                              Chris Armstrong
Secretary                                       Kurt Davis
Treasurer                                       Bill Gitmed
Immediate Past President         Wes Francis
Director                                         Tim Sepielli
Director                                         Fred Cotton
Director                                         Bill Maclyman
Sergeant At Arms                       Peter Scatena
Quartermaster                            Floyd Houghtaling
Safety Officer                              Dan Gilbert
Ride Captain                               Jake Jensen
Contacting NVII                          contact@bknv2.org