Nevada II
The Reno Blue Knights®
Our chapter is situated in Northern Nevada next to the Sierra Nevada Mountains, an outdoor paradise……. "NO we are not close to Las Vegas." and "NO it is not hot here, that would be Las Vegas 7.5 hours South of us".
Our chapter was charted May 3rd, 1984. We are part of the Blue Knights®
Our chapter annually sponsors the Nevada Law Enforcement Memorial Motorcycle Event, the Blue Butt Rally and provides support to law enforcement families throughout the state.
In 2014 BKNVII hosted the West Coast Conference Convention and with the support from 4 Northern California clubs we hosted the Blue Knights International Convention in 2015.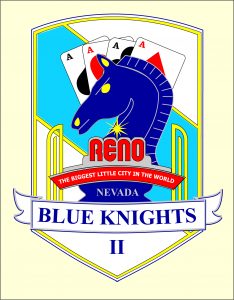 BKNV II Chapter Officers
Position Name Email
President Rob Davis motorider@charter.net
Vice President Kurt Davis motorcop5131@att.net
Secretary / Web Design Chris Armstrong ca8920@gmail.com
Treasurer Pat Lenhart lenhart5150@gmail.com
Immediate Past President Wes Francis namwal@charter.net
Director Bob Casey abcasey@aol.com
Director Robert Gautschi robocop447@gmail.com
Director Bill Maclyman maclyman@charter.net
Sergeant At Arms Peter Scatena peter.scatena@yahoo.com
Quartermaster Fred Cotton fred.cotton@gmail.com
Safety Officer Dan Gilbert danielhgilbert@yahoo.com